Jason Snell is on the scene, reporting from Çingleton in Montréal. (I like to imagine him with a fedora that has one of those "PRESS" things tucked under the band.) He writes about a presentation in which Bare Bones Software's Rich Siegel says that the next version of their top-tier text editor will not be in the Mac App Store. Zut alors!
Holding the Mac App Store in contempt is a hobby of mine (you know, like stamp-collecting, or needlepoint). I don't hate the idea of having a Mac App Store, it is the reality of the Mac App Store that I don't like. The iOS App Store is far more effective than the Mac counterpart. It's the only way to really get software for your iOS device, and there was no prior software for the platform that needs to be crammed in to it.
I highly recommend reading Jason's coverage (and hopefully Rich's talk will be available), and also Federico Viticci's thoughts.
Once you've read real news, written by professionals, please stick around and enjoy the ramblings of an insane person:
Purchasing software in the Mac App Store is easy as tarte. You open the MAS app, you click to purchase, you enter your Apple Store password, and you're done. You don't have to worry about serial numbers, or upgrade price structures, you either have it, or you don't. You can download it again, and you're all set.
File storage offered through iCloud promises to make your files available everywhere. This is a boon for companies that offer Mac and iOS apps. (Except in the case that there's a new storage service released on one platform and not the other, but nobody would release something like that!)
Software updates are all handled without user intervention. Software not in the MAS uses a variety of updating methods. Some run in the background and check for updates, prompting the user to download something. Others run only when an application is launched (which is the worst time to ask someone if they want to update their software, they just opened it to do work, not housekeeping.) Some pieces of software won't even update at all, unless you manually trigger a "Check for Updates" menu item or push a button. My personal favorite is the combination, when a menubar item pops up to tell you there are updates, and asks you to open the updater app to update the apps. (I want to print out the codebase for Adobe's software-updating apps and burn them in effigy.)
With MAS, it's all handled one way, and the worst thing the user has to deal with is dismissing the annoying MAS notification that sticks in the corner. C'est magique!
In order to have applications you need to have funding to make the applications. There's a wide spectrum:
Buy the app, at full price, always.
Buy the app and receive discount off the full-price of the next version.
Buy the app, get updates forever, for free, because it either cost so much this is possible, or the userbase continues to grow at a rate that can subsidize old customers.
Buy the app, pay for features in discrete, additional purchases.
Free app, pay for the features in discrete, additional purchases.
Free app with ads.
Free app with a subscription service.
Why should users care about the revenue stream for the developers? Do you like the software? (Nod.) Do you want more, better software? (Nod.) Well then they need money to do that. You know that free PDF app you downloaded, and it's terrible, and you don't know why? Well, pay for a good PDF app. It's like night and day.
The nasty side of paid upgrades is that it can result in dispassionate development that is more concerned with keeping upgrade sales up. See: Adobe, Microsoft, Autodesk, etc. Apple does not want that (even though they also participated in paid software updates for many, many years.) Apple wanted this to be the ancien régime.
It's a nice, but impractical sentiment. Some software needs decent funding for years of development work, and offering no real solution to that need, other than perpetual growth, is more than a little silly.
This has also resulted in In-App-Purchases rising. I'm typing this in Byword on my Mac. I bought Byword way back in 2012. I bought it on my iPhone too. It's a great app. They've updated it many times, for free, but they've already done one release where they've put new features in to an in-app-purchase. That means that existing customers pony-up more dough. It makes sense, since they never promised to do those new things. However, any new customer is immediately petitioned to pay for more stuff after their initial purchase. This also means that there are apps that are "free" that rely on a series of IAPs to become a functional app. (Customers have a variety of opinions on this, and you can enjoy those opinions by reading one-star app reviews.)
Subscription fees, however, are far more insidious. Let's talk about a top app, Autodesk's Pixlr. It lets people apply certain looks, and effects to images. It's more of a novelty than a serious app. It offers Membership Levels (copied from the text on the web version of the Mac App Store, because the Mac App Store app doesn't let you fucking copy text.)
Membership levels:
• Starter - Download for free to get started with basic photo editing tools and over 600 effects.
• Essentials - Gain access to enhanced features such as advanced Double Exposure and additional effects, overlays, and borders simply by creating a free Pixlr account and signing in.
• Pro - Pixlr Pro members unlock powerful photo editing tools such as Influence Masks, control over specific color channels, and more for just $14.99/year or $1.99/month.
…
Memberships can be purchased through the app with your iTunes account and managed through the Account Settings page on www.pixlr.com

Additional Information:
• If you choose to upgrade to a Pro membership, you will be charged through your iTunes Account.
• Membership automatically renews for the membership period you select, unless auto-renew is turned off at least 24-hours before the end of the current period. You will receive a reminder email prior to the end of your current membership period.
• Manage membership preferences in the Account Settings page on www.pixlr.com
• You may cancel your Pixlr membership at any time but it will not take effect until the end of your current membership period.
• Autodesk Privacy Policy is found here: http://www.autodesk.com/privacy and the Autodesk Software License Agreements here: http://usa.autodesk.com/adsk/servlet/index?siteID=123112&id=10235425
What, exactly, about a perpetual membership fee paid to Autodesk is better than discounted upgrades? Note that Autodesk is making a ton of these little apps. Their professional software, like Autodesk Maya, is still not available for sale through the MAS, and I doubt it ever will be. But hey, you can screw with some photos for a low, recurring fee they hope you'll forget to cancel.
Some applications have discontinued a particular app and introduced a new app. This is tricky, because you have to get the word out to your customers that they should go buy this other thing (sometimes leading to updates for the old app which prompt users to go to the store and buy something else.) For a long time, people waited to see what Apple would do for it's professional apps. Surely they would not justify endless free updates to major software subsidized through hardware sales. Turns out, they charged for those new pro apps.
This is really unfortunate because some customers expect a discount based on an existing relationship, and they won't get it. Some customers might also feel cheated if they "just" paid for one version, and a new one is out. They have to seek a refund through Apple, but from a customer perspective, this is the developers that they have a grievance with.
When I want to download software for my Mac I no longer go to the MAS to buy it. I go to the developer's web site and I look to see if they have multiple versions available. There are usually features annotated as missing, or supported by the MAS and non-MAS versions. If iCloud is important, then the MAS one is your only option. However, if you are like me, relying on Dropbox has always been more important. There's also the concern that I reflect on before a MAS or non-MAS purchase, "Will they leave the Mac App Store?" Sometimes, that is a relevant concern (Bon voyage, BBEdit). I bought Transmit from Panic, even though it is in the MAS, for precisely this reason.
Sure, I'll have to deal with the crappy serial number systems, and the crappy software update schemes, but if it's a worthwhile piece of software than it's worth an extra time investment.
The decay of the Mac App Store over the last few years is pretty subtle. Developers are not leaving en masse, all at once. One by one, as new updates are being developed, they weigh the pros and cons for them, and their customers, and they pull out.
Just look at the main page of the store's app and you'll see bric-á-brac. of apps. They're showcasing the Twitter Mac app right now. Yes, hey everyone, drop everything and check out this crazy thing called Twitter! The best part is the little bit of text. "New Features Added" — A.K.A. We totally don't care about marketing at this point.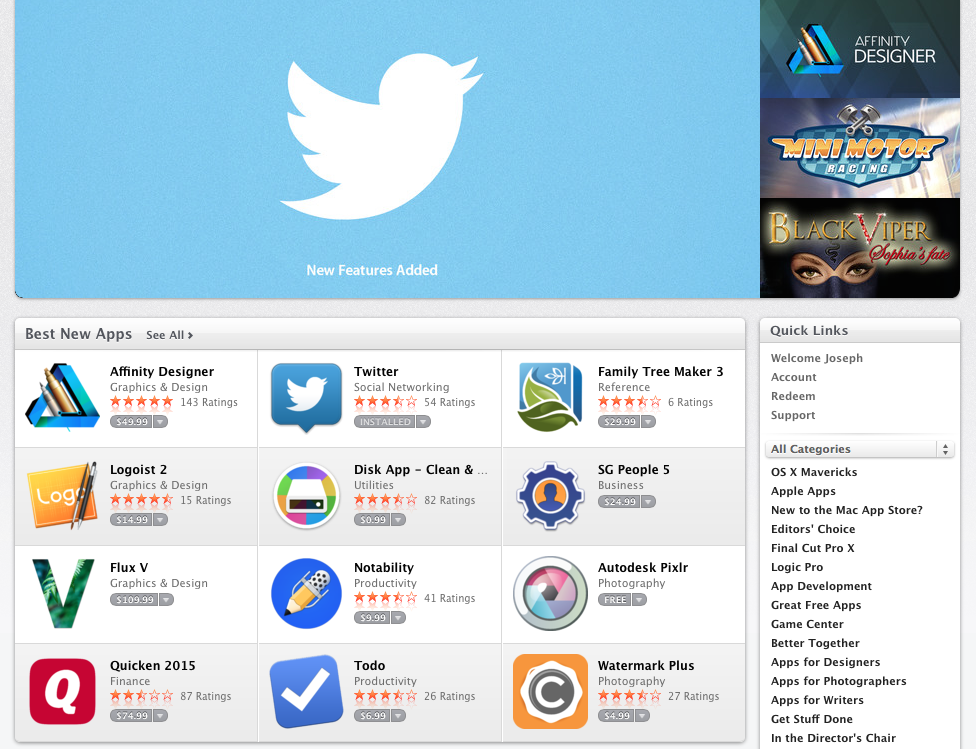 2014-10-12 13:12:05
Category: text