Brian X. Chen at The New York Times is reporting that Apple will not be announcing the rumored Apple TV at next week's WWDC event:
Yet one much ballyhooed device will be absent from the conference: a new Apple TV, Apple's set-top box for televisions. The company planned as recently as mid-May to use the event to spotlight new Apple TV hardware, along with an improved remote control and a tool kit for developers to make apps for the entertainment device. But those plans were postponed partly because the product was not ready for prime time, according to two people briefed on the product.

Apple declined to comment.
(Takes a deep breath.)
"The product was not ready for prime time" is not a hardware issue as Variety chooses to interpret it.
It's not even the HomeKit integration, as 9to5 Mac discovered in an official Apple support document that the third generation Apple TV will do all the HomeKit stuff too.
Gaming didn't kill it, because that was on wish lists more than it was ever hinted at by any of these reports or leaks. Seemingly the "TVKit" rumor had more to do with apps, which we know can include things like streaming media apps.
What really killed this was the OTT service. Recode reported earlier this week that the OTT deals would not be in place by WWDC and so no service would be announced.
Supposedly, that missing piece has killed every would-be update that's been rumored for the last three years.
That's fine, really. The OTT service was never announced, but it was so heavily rumored, and reported on, that it felt like it was inevitable. Les Moonves, President and CEO of CBS, was openly discussing a streaming service for Apple at the Code Conference only a week ago. He hinted that the big hang-up was money, but was "excited" about his ongoing conversation with Eddy Cue.
Indeed, Showtime, which is owned by CBS, has gone ahead and announced Showtime as a standalone service available for Apple TV and iOS devices today, but nothing about CBS' other properties or even existing digital programming.
As Jason Snell noted on Six Colors, it's "one of those stories that reads a bit like Apple managing expectations…" I agree. Better to disappoint everyone this week, than leave the media, and audience, wondering why it's absent next week.
Let's look at this excerpt from The Verge's 2014 WWDC predictions from last year:
Apple TV: Tim Cook has been teasing for a while now that more is in store for the Apple TV, but there's exactly nothing in the way of details. Multiple reports have suggested that Apple is trying to work with cable providers to get live video content and effectively replace your set-top box with something much more powerful — how exactly that'll work, however, is still unclear. Other reports have suggested that some key improvements will come to even the familiar Apple TV software soon, including support for Siri and third-party apps, giving the tiny box a whole lot more potential. All we know for now is that Apple remains very interested in television — and the rest is still to come.
Again, we're at the point where there's nothing new, and it might be on the horizon. We'll just keep moving the horizon back like that dolly-zoom in Poltergeist.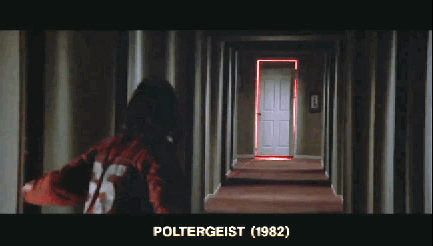 You're almost to the door, Diane!
There are three, positive things to note about the Apple TV:
Apple's only selling a three year-old set-top box. There are still 11 months before they're selling a four year-old box.
No FOMO over not buying a new Apple TV, because no one can.
2015-06-03 15:55:00
Category: text