Todd Spangler, writing for Variety:
The e-commerce giant is now offering its video-streaming service in the U.S. independent of the Prime free-shipping program. Purchased separately, Prime Video will cost $8.99 per month — one dollar less than Netflix's most popular plan.

[…]

In addition, Amazon is offering a new payment option for full Prime membership of $10.99 monthly, with no annual commitment. That's 33% more than than the $99 annual Prime membership, but Amazon said many customers have been asking for month-to-month flexibility with the program.
I was pretty confused by this move, at first, because it's a greater expense for the customer. A year of Prime Video is significantly more expensive than a year of a full Prime membership with all the benefits that entails. Indeed, if you go to your Amazon account settings, it provides you with a helpful spreadsheet about how you probably don't want to downgrade to a Prime Video membership.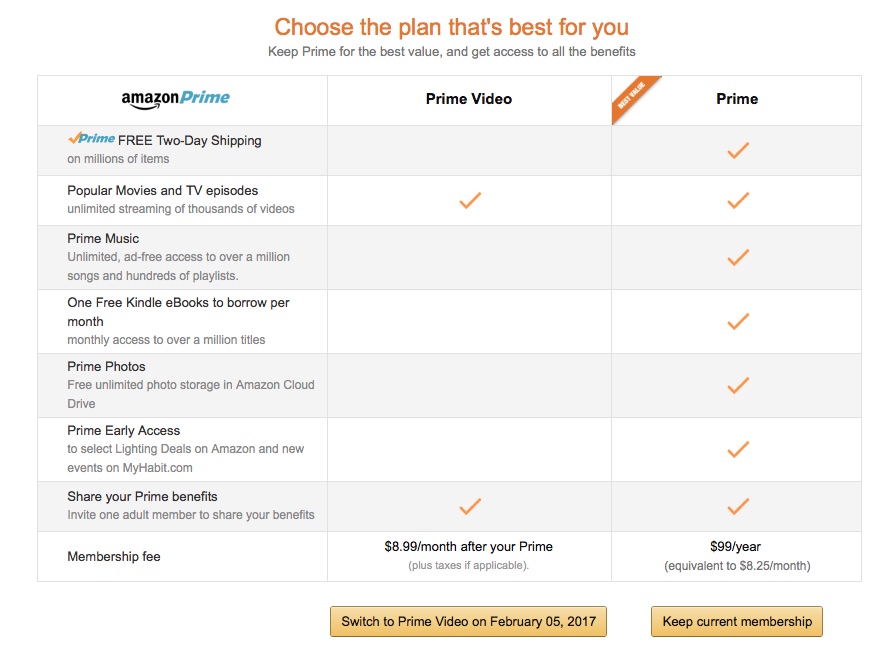 "Hey, bro, are you sure you want to do that? C'mon, bro."
There is a different story to tell, of course, and that's the story about people who are on the fence about making a yearly commitment for $100. That's a big risk for customers to take, where is $8.99 a month is a smaller risk. Because a full Prime membership is such a deal over the Prime Video membership, it's also easy for Amazon to encourage those people trying Prime Video to upgrade for a savings. Lower barrier to entry, and an up-sell that's actually a discount. No one Amazons like Amazon.
This is not a Netflix replacement. Even though Todd Spangler's piece references the cost of Netflix and Hulu several times, the services are different enough that they don't overlap as much as one might think. I'm not sure anyone will buy Prime Video because it's a dollar cheaper than Netflix. They'll buy Prime Video in addition to Netflix.
Amazon also has those add-on subscriptions that can dramatically increase the cost of this Prime Video rate. Consider the Showtime add-on, which is $8.99 a month as well (compare that to the $10.99 a month rate for Showtime's standalone app). If you get Prime Video with Showtime, than you've doubled your rate. Starz is also $8.99, Sundance Doc Club is $6.99 … Anyway, these add-ons add on. However, like the Prime Video monthly plan, you can cancel any, or all, of the add-ons and they won't renew for the next billing period, and many offer seven-day trials.
The biggest problem with this Prime Video push is that Amazon still doesn't offer anything for the Google Cast (née Chromecast) or for the Apple TV. Their mobile, tablet, and web apps all work, but it does seem that their efforts to get into your TV could be improved. The Fire TV Stick is fine for video, but it has severe non-Amazon-Video shortcomings.
I even wonder if part of the reason for the %33 markup on the Prime Video service might be to cover the cut Apple would take of any in-app subscriptions on the Apple TV? That's not so far fetched, but the markup might just be coincidence. If that was really the plan wouldn't they have rolled out a tvOS app with the announcement? Though it might be something they have room to pursue later.
2016-04-18 07:54:27
Category: text